By John Voket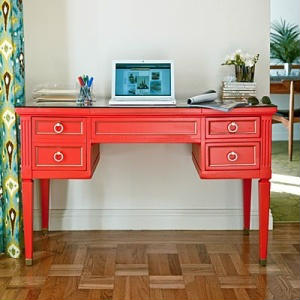 I recently became acquainted with Lisa Kaplan Gordon, a builder of luxury homes in McLean, VA. She has published a wonderful guide to help evaluate whether homeowners can refresh certain areas or furnishings with a new coat of paint.
In this first of several segments, we'll look at a couple of unconventional areas where a few cans of paint can save consumers hundreds if their alternative is replacing the item.
First, let's consider appliances.
Gordon says use indoor appliance paint to change colors, or a liquid stainless steel application to give your appliance a stainless steel look. Use a roller for small touch-ups; and two or three thin coats of spray paint for total appliance coverage.
To prep:
1. Clean appliance exteriors with a heavy-duty cleaning solution and, if needed, a scrubbing pad.
2. Remove handles and hardware; place painters tape over trim and logos.
3. Sand the exterior.
Then:
Be sure the front of your appliance is metal, not plastic. Plastic exteriors will require priming.
If spray-painting, haul the appliance outdoors to avoid getting paint on cabinets and floors.
If painting indoors, open windows to promote ventilation.
For the stainless look, apply Liquid Stainless Steel with a brush.
Gordon also loves the idea of covering stains and reviving carpets with upholstery paint. Her source, Kathie Smula of Spray It New upholstery paint says carpets with a short pile are the best candidates for painting; unfortunately, long-pile carpets become hard and matted when painted.
To prep:
1. Thoroughly clean the carpet. You don't have to steam clean, but scrub the worst stains and vacuum so dirt doesn't mix with paint.
2. Skip priming and just spray paint two or three coats, depending on how deep you want the color. Make sure it's dry to the touch before spraying another coat.
Then:
Don't confuse upholstery paint for carpets, with fabric paint, which is good for T-shirts.
If you get paint clumps, loosen the area with a bristle brush and dab up excess paint.
Six cans of spray paint will cover an 8-foot-by-10-foot carpet with at least two coats.
In future segments we'll touch base with Gordon on other ways to touch-up with paint versus replacing!
Reprinted with permission from RISMedia. ©2014. All rights reserved.