By Barbara Pronin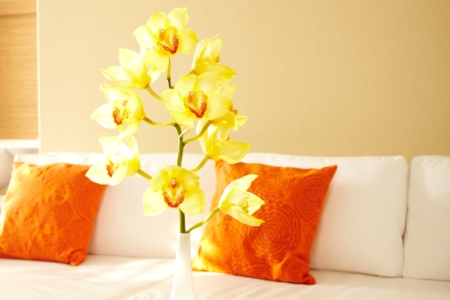 Ready or not, spring is here, and with it comes the urge to open up your home to fresh breezes and sunshine. The trouble with that, as some homeowners lament, is that the furnishings may look a little tired.
Before you replace a few big-ticket items, take a few tips from the editors of Home & Garden Magazine to spruce up your home without spending any money:
Bring the Outdoors In – Take a walk and gather a bunch of the season's first lilies or daffodils, or even a branch or two of greenery. Fresh greens and flowers are the fastest and easiest way to put a little spring in your home.
Flip the Throw Rug – This may not work for oriental rugs, but for others, flipping a rug upside down may expose a textural difference or a slightly different hue that changes the look of the room.
Rethink the Layout – Sit down with a pencil and paper and try out some different furniture arrangements. A simple switch may make all the difference in changing the look of your home.
Use Leftover Paint – If it's still sitting in the garage, use it to freshen up walls or cabinets that may have been scrubbed once too much.
Edit It Down – Sometimes, when a room looks tired, you don't need to add anything new. Try removing a few things to edit down the space. You may find less is more.
Rearrange Displays – Instead of packing in row after row of books on a bookcase, try leaving space open on the shelves and display a few knick-knacks or art objects.
Change Out Wall Art – Move a few of your favorite paintings to another spot. Switch them out with a couple of prints or family photos. Check the attic for a vintage item or two and hang them on the walls for a fresh, new look.