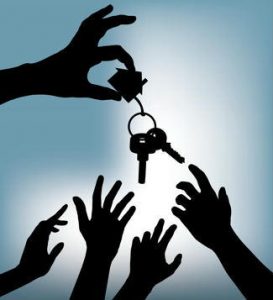 "Bidding for a home can get pretty feisty in today's market," said Gibran Nicholas, Chairman of CMPS Institute, an organization that trains and certifies mortgage bankers and brokers. "In some cases, you may be competing with more than 12 other buyers who are bidding on the same property. "Here are three potential solution to avoid getting outbid on your new home.
1. Turn in your loan paperwork BEFORE you plan an offer.
In many cases, you are bidding against cash buyers who don't need to wait for financing approvals. Look at it this way: if you were the seller, would you prefer to do business with a buyer who needs to wait for financing approvals, or a cash buyer who can close the deal quickly? "That;s why it's important to be proactive," Nicholas said. "Provide your mortgage lender with things like your course of down payment funds, your asset documentation, your credit report and your income documentation. This way, you'll be in a better position to close the deal quickly and compete with those cash buyers.
2. Pay cash, but do it right.
"Keep in mind that you only have 90 days after closing to place a mortgage on a property that you bought with cash if you want to secure your tax deduction, " Nicholas said. "In order to get that loan approval after closing, you'll need to document the source of funds that you used for your cash purchase.
3. Consider lender-paid mortgage insurance.
Lender paid mortgage insurance allows you to accept a slightly higher interest rate in exchange for no mortgage insurance. "This is very useful because it's often less expensive than FHA insurance or Private Mortgage Insurance, "Nicholas said. "The lower monthly payment that results with this option can help you to afford a higher priced home, or at least get more comfortable paying at or above list price for the home you want."
Source: HomeQB.com